About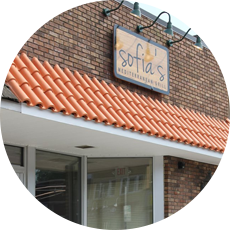 Sofia's Mediterranean Grill is a family owned and operated restaurant with over 20 years' experience.
We have strived to ensure that our family recipes are made with the freshest ingredients and served with the warmest of smiles.
At Sofia's you'll not only find some timeless classics, but also some new and contemporary Greek dishes that are guaranteed to please the palate.
So come and relax in our warm and cosy home, and enjoy some home cooked food made with love
Learn More
Contact
Sofia's Mediterranean Grill
220 Boulevard
Hasbrouck Heights, NJ 07604
Phone: 201.462.0123
Fax: 201.462.0124
Email: sofiasgrill@gmail.com
BYOB
Takeout and Delivery Available *NEW*
HOURS:

Sunday: Closed
Monday: 11:30 AM - 9:00 PM *NEW*
Tuesday: 11:30 AM - 9:00 PM
Wednesday: 11:30 AM - 9:00 PM
Thursday: 11:30 AM - 9:00 PM
Friday: 11:30 AM - 10:00 PM
Saturday: 11:30 AM - 10:00 PM